Do you already have a fitness tracker or are you looking for one? We put together the best fitness tracker and point out the pros and cons so you know which one you should buy and last but not least save money and get healthier!
Have you been working out for too long that you find your usual routine getting a bit of a bore? Well, if you're looking for ways to level up in the fitness game or to add more zest and fun while achieving your health goals, you've come to the right place.
One of the most popular fitness tracker brand in the market today is Fitbit. If you still have reservations in getting yourself one, we've come up with this side by side comparison between Fitbit models and their counterparts from other brands. Check out our hand picked workout gears to make your exercise more of a fun activity than like a chore.
1. Fitbit Flex vs. Jawbone Up2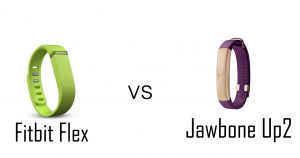 For the beginners in the field, both Fitbit Flex and Jawbone Up2 serve the same purpose when it comes to tracking activity and understanding one's fitness progress. Remember though that while both Flex and Up2 do not have any display at all, both can be a reliable entry-level tracker for recording steps, distance and calories. As an upgrade to the Flex's predecessor, the Flex now has a Sleep Monitor similar to that of Up2. Another plus point for the Jawbone Up2 is the "Smart Coach" which serves as the user's personal guide on fitness progress. Battery wise, Flex users need to be mindful of their device since its battery lasts only for about 5 days whereas the Jawbone Up2's battery needs to be recharged after 10 days.
Read more about Fitbit Flex here and the Jawbone Up2 here
2. Fitbit Zip vs. Misfit Flash Personal Physical Activity Monitor
Another set of gears for newbies who do not want to complicate their fitness activity are Fitbit Zip and Misfit Flash. The obvious difference between these two of course is their form, Misfit Flash Personal Physical Activity Monitor comes with a bracelet to be worn on the wrist while the Zip looks like a piece of candy. What's interesting about these two is that both can be clipped on the waist, belt, pocket, shoelace or even in a bra. That makes both gears serve as an effective tool for everyday activity tracking. However, unlike Misfit Flash, you can't keep track of your sleep with the Zip. In terms of power and battery, the two devices are at par because they use disposable batteries that can last for up to six months. No more worries about charging. On the plus side, Misfit Flash users have access to "Misfit Link" App which is a downloadable mobile application that allows users more control through a smart button that can do other things while tracking activity such as manage music or take photos.
Know more about Fitbit Zip here and Misfit Flash Personal Physical Activity Monitor here
3. Fitbit Blaze vs. Apple Watch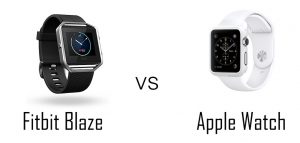 Okay, Smart Fitness Watch has become a trend this 2016. After Apple joined the fray by introducing Apple Watch, the fitness watch market was never the same again. Aside from the basic activity, sleep and calories tracking, what more can we expect from a smart watch? A lot more. Both Fitbit Blaze and Apple Watch have enhanced features to keep users in the right track while doing their fitness regimen. The Blaze offers an eye candy nice looking watch loaded with an optical heart rate sensor and silent alarm. Apple watch, on the other hand was launched as primarily as a smart watch that comes with the Health App. Via Health App, users can check physical activities and receive updates on their fitness progress. As expected, this watch is filled with iOS goodness like Apple pay and it pairs easily with the iPhone or Mac for easy transmission of data, calls and messages. In general, both gears were aimed to capture the pop culture demographics.
Check out Fitbit Blaze here and the Apple Watch here
4. Fitbit Surge vs. Garmin Forerunner 235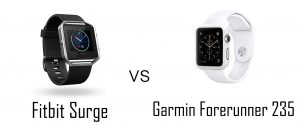 For the more serious fitness buffs, the Fitbit Surge and Garmin Forerunner 235 are just among the few options to consider when buying a smart watch. Having a built-in GPS and heart rate monitor are both the strength of these two gears. Being a potential favourite among more advanced users, Garmin has designed a more personalised approach to training through the Garmin Connect app. That gives live tracking and real time coaching which allows users to download advanced training plan as well as workouts. As for the Surge, Fitbit uses PurePulse technology where heart rates are monitored without the usual chest straps. There is also multi-sport option to choose a particular activity to track per session like biking, running, cross-training and cardio. Just like Forerunner 235, the Surge has FitStar workout that users can follow to the letter. Whichever you choose, both devices make fitness regimen a breeze.
Find out more about Fitbit Surge here and Garmin Forerunner 235 here
5. Fitbit Charge HR vs. Garmin Vivosmart HR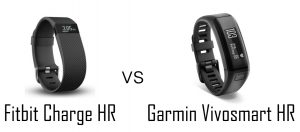 Taking in control of your health with a fitness trackeris such a tough job but you can make it fun with Fitbit Charge HR and Garmin Vivosmart HR. Leaning to the more advanced fitness gear on its turf, both Charge HR and Vivosmart HR focus on monitoring Heart Rate. Both have successfully created a niche in terms of tracking activities. In fact, Garmin went up the notch a bit by including floors climbed among the activities it measures. ViVosmart also boost with Smart notifications that displays emails, calls, text messages, and even social media alerts. Fitbit Charge on the other hand has an Exercise Mode that easily tracks and produce real time statistics for instant reference. It also monitors sleep and calories burned.
Have a closer look at Fitbit Charge HR here and the Garmin Vivosmart HR here
Now that you have an idea of which features you like, you can start working on those abs happily with your new gear. Our final advise though, always check with your doctor before starting to try a new fitness routine.